Commercial Demolition Dumpster Services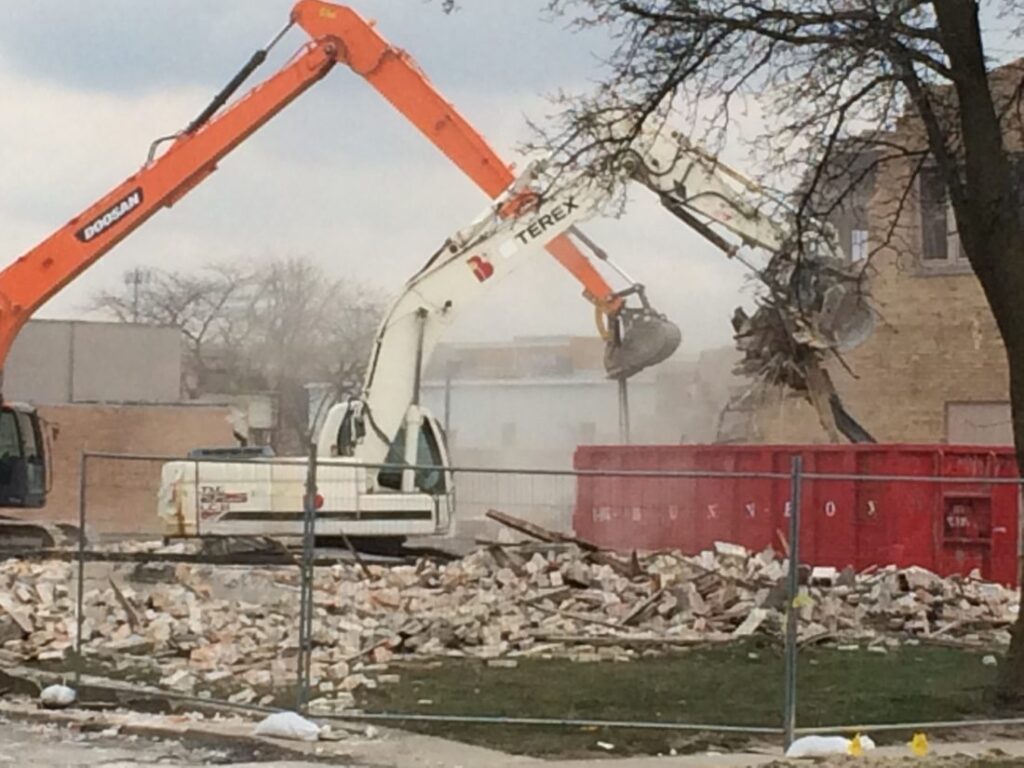 What does a demolition project entail? A lot of work for sure. You have to call professionals—if you're not one—, find a place where you can get rid of all the waste and debris of your project, among many other things and aspects. Now, we want to focus on the last one: the debris and its disposal.
It is hard to deal with all the rubble in a demolition process, especially due to how easy it is to have it everywhere interfering with your task. This is why you will find quite useful and amazing the simple idea of having space where you can just walk a bit and instead of leaving all in the curb or middle of the work area, you can throw it away. Still don't have an idea of what we're talking about?
Well, our company Greeley's Premier Dumpster Rental & Roll Off Services, provides containers for demolition projects, especially commercial ones. We know how hard it is to deal with rubble, waste, and all the things and elements that interfere with your project but are inevitable. This is why we wanted to make things easier for you and anyone in need of some space to dispose of things during this project.
What's so good about dumpsters?
The list is quite long, and we can assure you that the more you read or advance on it, the more you will notice and realize how much you need one for your demolition. First, you don't have to struggle with removing debris and waste from the area. Second, you won't have to dispose of it on your own since the service—at least in our company—includes pick up and disposal. This means you only need to worry about contacting us and letting our team know the dumpster you need when to deliver it and pick it up for either emptying it or going for the final disposal.
Something most people don't know about containers is that they don't need to be professionals to rent one. We know you're assuming that in this case, a commercial demolition involves many people and only experts, but we know it can be carried out for you or a group of people not that experienced. And in other situations, the idea isn't impossible—in residential demolitions, for example.
If you need to toss or throw waste and debris, you can always access one. Just make sure to find a reliable company that will provide you with exactly what you request or need. And if you don't know the size of the dumpster or type you require, it should be able to advise you in your decision.
Why consider us
Because we know what we're doing in every single aspect and our services never disappoint. We've been in this field for a long time, and we know what most of our clients and potential ones need when renting a dumpster—or more than one. We will help you determine the size and type—standard, roll-off dumpster, or any other—and make sure it meets your disposal needs. In our company and with our experts, you won't have to worry about anything when accessing the container your commercial demolition project requires.
We offer the best dumpster rental services throughout the state of Colorado.
From roll off dumpsters to residential & commercial cleanup services, we are your top choice when it comes to finding a reputable dumpster company in your area.
We offer the best dumpster rental and cleanup services in Greeley, Colorado. We also offer roll-off dumpster services, residential & commercial cleanup services, small & large dumpster rentals, construction cleanup, waste containers, junk removal dumpster services, demolition removal dumpster services, & much more.